Now it is possible to calculate combined routes of public transport and private vehicle in all of Catalonia, with the new version of the system Travelling
Image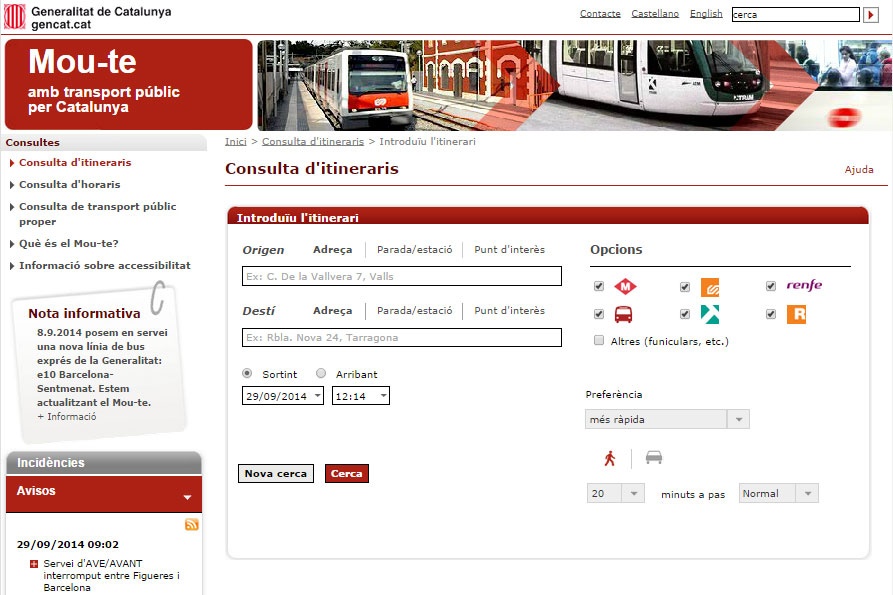 • It allows a more agile and easy navigation and gives multimodal  itineraries combining Catalonia's public transport and private transport. 
The Department of Territory and Sustainability has released a new version of the Generalitat's route finder, called "Travelling", which makes navigation more agile, thanks to a new mobile and web interface that are more simple, clean and faster to use by the user. In addition, it is the first route search engine in the state that includes the private vehicle as a mode of transportation at the start and/or at the end of the journey, allowing it to give multimodal itineraries combining public transport + private. In this way, to a citizen who, for example, lives in a residential complex where there is no public transport and wants to travel,  'Travelling' will be able to offer him as an alternative to take his private vehicle up to the closest bus or rail stop and continue the itinerary in public transport. 
Another new addition is that the points of interest (POIs) have been upgraded for the search of a new route and in the part of search by stop / station, now you can find both the railway (Metro TRAM + + + FGC Renfe) as well  the bus stations. 
The route finder 'Travelling' can be used for any travel within the boundaries of Barcelona, the Metropolitan Region of Barcelona and the rest of Catalonia, as it includes all the supply of Catalonia's public transport: buses and subway of the TMB, railways of the Generalitat of Catalonia, suburban trains, trams, buses of the Metropolitan Area of Barcelona, ​ ​buses of the Generalitat of Catalonia, and the urban bus services in the major cities of Catalonia (Tarragona, Lleida, Girona, Terrassa, Sabadell, Vic, Mataró, etc).
"Travelling" in Catalonia's public transport is the search engine of public transportation routes promoted by the Generalitat de Catalunya, integrates all the supply of public transport that operates within the territory of Catalonia. It allows to obtain the updated information on the timetables, transport lines, incidents, or damages to the service. This is born out of the collaboration with Nexus Geographics.