Satway: APP to send messages free to telephones satellite
Image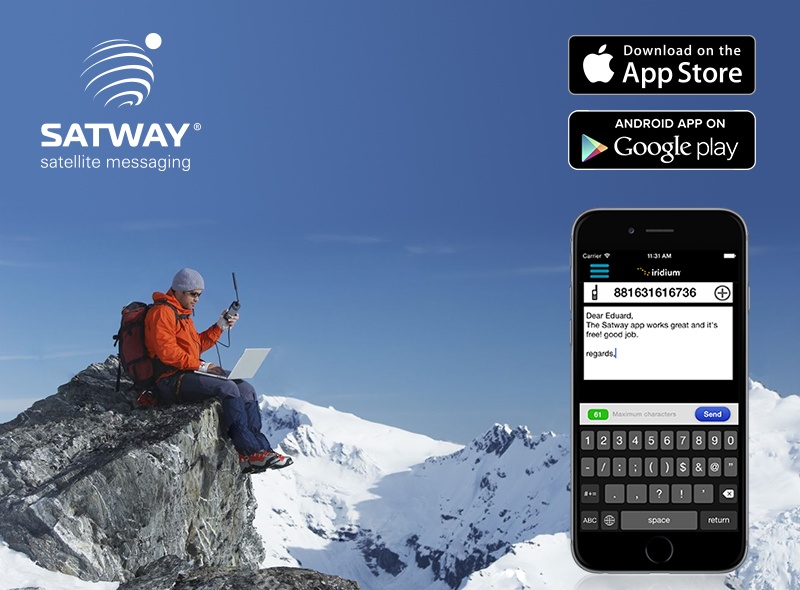 SATWAY is an APP to send text messages to satellite telephones from a mobile phone. It is free and is aimed at 4 million satellite phones operating all over the planet, a number that increases 20% every year. Satellite phones are used in areas with poor or no coverage for conventional mobile phones; for example on expeditions to remote places, maritime and air transport, sailors, extreme athletes, alipinists, collaborators of NGO's, construction engineers and military expeditions.
Whereas mobile phone users have thousands of applications that solve all kinds of needs, satellite phones only have a very small offer. SATWAY solves the basic need that nobody solved before: to be able to send free messages to satellite phones from any mobile phone, anywhere in the world. Easily, with full assurance of reception and even a confirmation message.
Today there are four satellite phone operators. SATWAY allows communication through the most important satellite networks (Inmarsat, Iridium and Thuraya), with global coverage while offering rapid, trustworthy and sure communications.
The application is a property of Verasat Global (a company based in Barcelona, specialized in satellite communications, partner and official distributor of products and services of Inmarsat, Iridium and Thuraya) and it has been developed in collaboration with Nexus Geographics, leading company in geolocation, transport, traffic and urban mobility software. In January, 2016, SATWAY has been officially certified by the operator Inmarsat (as part of their CAP program, Certified Application Partner) and is recommended as one of the most interesting applications for communication through satellite telephones.
In February it will be presented to society at the Mobile World Congress. SATWAY is available for Android and iOS and in summer 2016, the version SATWAY PRO will be launched with more features: geolocation, voice messages and Whatsapp messenger.
Download the APP: