The "Free and Open Source GIS Conference" of Girona arrives at its 10th edition and Nexus Geographics will repeat as sponsor.
Image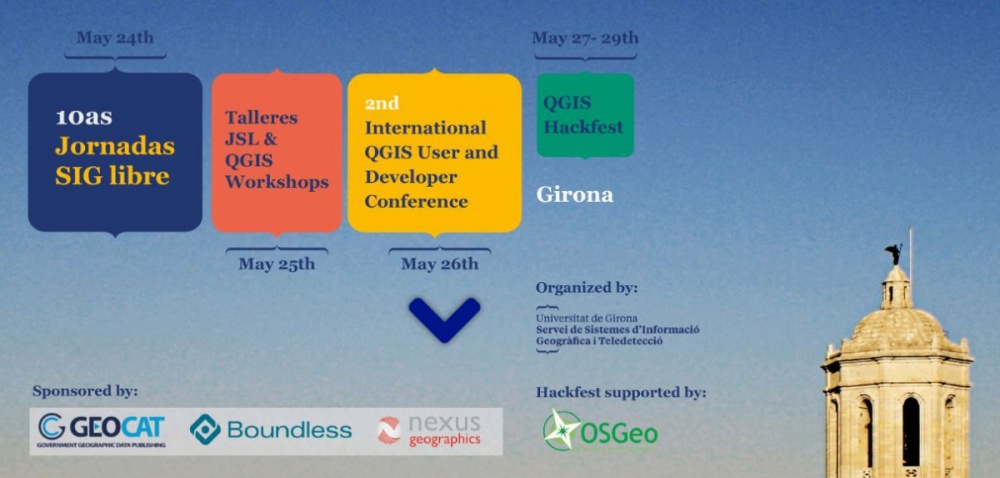 The "Free and Open Source GIS Conference" is celebrating its anniversary: ten editions of disclosure, exhibition and exchange of open-source and free geospatial technology experiences. This edition will be very special because of its international dimension and hackfest to incubate a new version of QGIS.
The "Free and Open Source GIS Conference" is the referential conference and has become an important meeting point to share knowledge and create synergy between more than 200 participants, users and professionals of geographic information and technology. It is organized by the University of Girona, faculty of Geographical Information Systems and Remote Sensing. The conference will be held from the 24th to the 27th of May in Girona. 
The Program,  like in previous editions, it will present interesting speeches and practical workshops about free and open-source software, open data and its use, application and developments. Within the framework of the Conference, the International QGIS User and Developer conference will also be celebrated, a reference and meeting point for users and developers linked to the QGIS project. Furthermore, a QGIS hackfest will be given on the 27th and 28th of May, an event that is organized two times a year in a European city for developers, testers and other people linked to QGIS to share their ideas.
The sponsorship of the Conference by Nexus Geographics in successive editions is part of its strategic relationship with the University of Girona, as Nexus Geographics is also sponsor of the Polytechnic School Foundation.