The App de Bip&Drive is revolutionizing electronic toll collection for motorways and parkings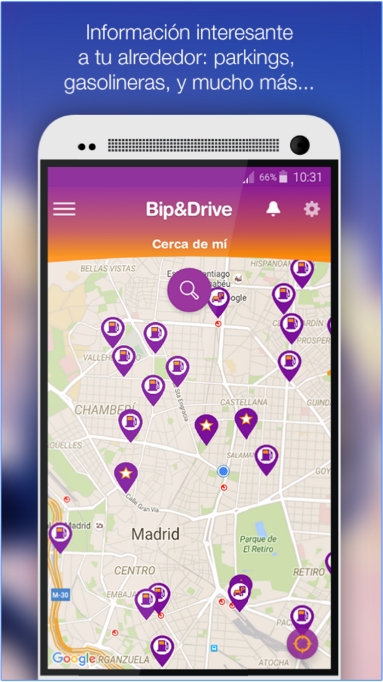 Bip&Drive is the company that is revolutionizing the sector of the electronic toll collection, with attractive and innovative proposals and approaches. Amongst them, is the fact of being theonly valid ViaT for all highways of Spain, France and Portugal. In addition, and unlike other products in the sector of electronic toll collection, Bip&Drive offers their device free of charge, including shipping to home, as well as flexible rates (pay-per-use or flat rate), unified and detailed rate, etc.
The revolutionary approach of Bip&Drive is based on positioning the Via-T as the best form of payment associated with car mobility. Furthermore, each time there are more places and establishments that offer payments through the Via-T system (e.g. car parks, technical vehicle inspection and car washing services). Nowadays it is possible to pay with the Bip&Drive Via-T in many car parks in Spain and France.
BIP & Drive also has an APP, that is designed to accompany the driver on the road to drive safer and in a more comfortable way. Amongst other features, it allows receiving real time status updates of the Via-T device, check invoices, data consumption on tolls and parking, savings and journeys made.
Nexus Geographics has collaborated with Bip&Drive on the introduction of features and geocoding within the new App:
Search and geolocate driver key services, like service stations, gas stations, car parks, etc.

Driver alert service: it is possible to configure alerts to know the status of the traffic, meteorology, sections in works in the planned route, etc.

Route calculation: possibility of planning routes to obtain the estimated travel time and toll costs. In addition, it visualizes touristic points of interest at the destination to locate and visit them
Bip&Drive is the Spanish market leader in toll systems. It was released in 2014, and its shareholders are CaixaBank and the three main highway operators in Spain: Abertis, Itínere and Cintra, operating on 87% of the total kilometers of paid motorways. 
Currently, the company has a market share of 25%, and owns the largest park of Via-T devices with 500,000 units.
The application can be downloaded for free on the App Store and Google Play: